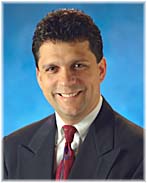 Orlando Ayala, Group Vice President. Sales, Marketing and Services Group, Microsoft. Orlando Ayala, , Colombian executive of Microsoft, is a management information systems (MIS) specialist. He is the Vice President of Sales, Marketing, and Services Group of Microsoft. The group is also responsible for global marketing of the Microsoft brand. Before joining Microsoft, Ayala spent 10 years with NCR Corp. He held various international assignments, including sales director for NCR Mexico.
"I have always thought that there is a number one, very important ingredient for success: PASSION. I keep reminding my children that they should do what they like. In our company, it does not matter if a person comes from Latin America, PASSION is what matters". Revista Semana, August 20, 2000. (www.semana.com.co)
You are cordially invited to visit these other sites and get to know more about this fascinating executive.
---