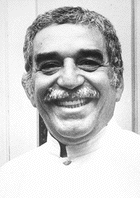 Author of masterpiece One Hundred Years of Solitude.Garca Mrquez, Gabriel (1928- ), Colombian novelist and short-story writer, known for his weaving of realism and fantasy in his works. He was born in Aracataca. Garca Mrquez's liberal, left-wing politics angered conservative Colombian dictators. To escape persecution, he spent the 1960s and 1970s in voluntary exile in Mexico and Spain. In the early 1980s he was formally invited back to Colombia. He was awarded the Nobel Prize for literature in 1982 and is considered one of the masters of the technique of magic realism.
Garca Mrquez's best-known novels include No One Writes to the Colonel (1958), about a retired soldier; One Hundred Years of Solitude (1967), the story of a Colombian family; and The Autumn of the Patriarch (1975), concerning political power and corruption. He also wrote Love in the Time of Cholera (1985), a story of romantic love; and The General in His Labyrinth (1989), a fictional account of South American revolutionary leader Simn Bolvar.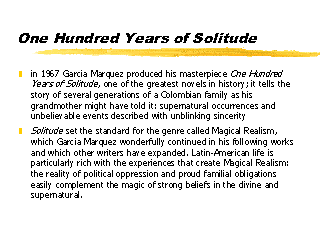 You are cordially invited to visit these other sites and get to know more about this fascinating writer.
---