Welcome to our site. We hope you enjoy the dimensions of artist Fernando Botero!!!.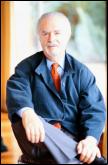 (1932----) Born - Medellin, Colombia Fernando Botero is one of the best and perhaps the most popular contemporary artists in the world today. His unique style is instantly recognizable. In the course of three decades, his hard and disciplined effort resulted in more than 1,000 paintings, serveral thousand drawings; and beginning in the mid-1970's, a number of distinctive bodies of sculpture in bronze and polyester resins. "In art, as long as you have ideas and think, you are bound to deform nature. Art is deformation." - F. Botero
His paintings are often social commentaries with political overtones that may seem simply humorous at first glance. His satirical portraits take on the character of human still-life. Botero studied fresco technique and art history in Florence from 1953 to 1955 and this has influenced his painting ever since. Botero lived in New York from 1960 to 1970 and his primary inspiration was from the Italian Renaissance. During this period he began experimenting with creating volume in his paintings by expanding the figures and compressing the space around them.

Since 1972, Botero has had various individual exhibitions throughout the United States and Europe. In 1993, Botero exhibited some of his sculptures along the Champs Elysees, the first time a non-French artist had done so. The artist has also had an individual exhibition at the Grand Palais in Paris. He has exhibited his works on streets of Madrid, Chicago, Tokio, Los Angeles, and others.
Fernando Botero was awarded with the Honorary Degree as Doctor of Fine Arts, May 14, 1999, by the University of Miami.
You are cordially invited to enter these sites and get to know more about Fernando Botero's rotund figures.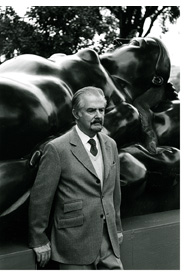 ---