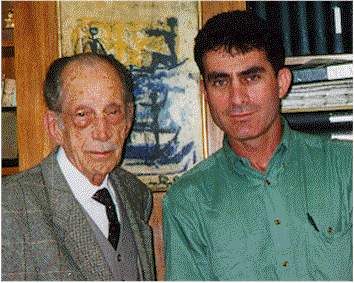 "Dr. Barraquer, Father of Refractive Surgery, and Dr. Friedman. (courtesy of Dr. Friedman)"
"This page is dedicated to a humble and simple man and yet the number one genius of modern refractive surgery. One of the nicest people I have ever had the pleasure and honour to meet", Dr. Steven Friedman (see link below as well).
Many Ophthalmologists consider Colombia to be 'The Mecca' for eye surgery"*
*(Quotation from ABC affiliate KITV television news.)
Dr. Jose I. Barraquer is a Member of the Ophthalmology Hall of Fame.
Many international ophtalmologists admire world renowned Colombian Eye Surgeon Dr. Jose Barraquer, "The Father of Modern Refractive Surgery," and how his genius spawned the exodus out of the dark ages for corneal refractive surgery, which essentially did not exist prior to Barraquer. He is one of the true geniuses of modern ophthalmic surgery. Before Jose Barraquer, ophthalmologists' primary concerns were related to post surgical corneal clarity. Dr. Barraquer, though, was not happy with this for he realized the very important refractive properties of the cornea. He then went on to develop surgical procedures to correct the corneal refractive(optical) defect. He also had to design and build the instruments to perform these procedures because they simply did not exist! The disbelievers became believers, and he was no longer alone.
Did you know? Dr. Barraquer's volume-thickness techniques in keratomileusis (his own procedure) were the first in any surgical specialty to modify a normal structure to effect permanent improvement in function. Dr. Barraquer's procedure Keratomileusis is the origin of the K in LASIK.
Colombian Eye Surgeons have been performing modern corneal lamellar refractive procedures longer than surgeons in any other country in the world. Thanks to Dr. Barraquer!
You are cordially invited to enter the following sites and get to know more about Colombians Dr. Jos I. Barraquer, Dr. Luis Ruiz, and Dr. Cirgilio Galvis, who are considered the best in the world at refractive surgery, period!
---