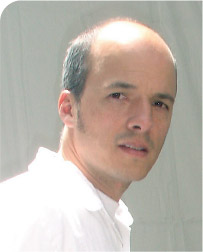 Dr. Andres Jaramillo-Botero, from Cali, Colombia, is the Director of the Multiscale Modeling and Simulation Materials and Process Simulation Center at California Institute of Technology (Caltech). Dr. Jaramillo-Botero education is very extensive; in 1995-1998 he became a Doctor in Industrial Engineering at Universidad Politecnica de Valencia, Valencia, Spain. In 1988-1989 he went to State University of New York, Binghamton, New York, and got his Master of Science in Computer Science; 1982-1986 at Boston University, Boston, Massachusetts, he finished his Bachelor of Science in Electrical Engineering; he did his high school at the Colegio Colombo-Británico in Cali, Colombia.
Dr. Jaramillo-Botero was named one of 2000 Outstanding Scientists of the Twentieth Century by (I.B.C.), Cambridge, U.K. for outstanding contributions in Nanoscale Computational Dynamics.
You are cordially invited to visit these other sites and get to know more about this outstanding researcher.
---