---
HomeAbout ColombiaNewsPeopleScenic ViewsLinksAuthor
+ Latest positive news about Colombia +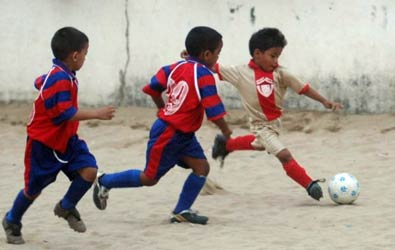 December 4, 2006 (www.eltiemp.com; www.dagbladet.no/tv/) Juan David Torres, 5,5 years- The biggest talent on Earth

Watch this 5 year old kid play soccer! He's got skill and talent! His name is Juan David Torres, from Barranquilla, Colombia. Remember the name!

En Barranquilla se juega asi! Eah!!!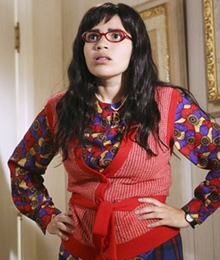 November 8, 2006 (latimes.com) A diverse viewership has made `Ugly Betty' the No. 1 new show

MIRROR, mirror on the wall: Who is the fairest new TV character of them all?

Her name is Betty Suarez, the 22-year-old magazine editorial assistant you might know as "Ugly Betty," ABC's fresh and spunky superstar. The show is one of only a few unquestionable successes of the fall season thanks to its appeal to a multicultural, predominantly female audience. More than 14 million viewers, mostly women of diverse ethnic backgrounds and ages, have made "Ugly Betty" the No. 1 new show in total viewers.

Not only has the 8 p.m. comedy helped put ABC back on the all-important Thursday map without any help from a lead-in show, it also ranks among the top 20 shows with 18- to 49-year-olds, the demographic advertisers covet the most, and ranks as a top 20 show with viewers who earn $100,000 or more, according to Nielsen Media Research.

"To think that last year at this time I was in New York doing some research, sitting at a Starbucks, writing the first few scenes of this pilot," creator Silvio Horta said. "I had no idea if it was going to go anywhere. But I guess it just goes to show that this character's strength, honesty and optimism seems to resonate. She's really tapped into a void."

The show, inspired by one of the most popular telenovelas in history, the Colombian "Yo Soy Betty, la Fea", has been a smash hit everywhere it has been re-made, including Russia, India and Germany, and its most recent incarnation on Spanish-language television, "La Fea Más Bella" on Univision. It seems it was only a matter of time before Americans fell in love with the bespectacled, bushy-browed, braces-wearing Betty, played with aplomb by America Ferrera ("Real Women Have Curves" and "The Sisterhood of the Traveling Pants").

Comedies don't typically compel fans to take to the Web the way serialized dramas such as "Lost" and "Heroes" do. But "Ugly Betty" is an exception to that rule.

November 9, 2006 (www.labiennale.org) Bogotá is awarded the Golden Lion Award for cities at the Venice Biennale

...Biennale Architecture... 10th International Architecture Exhibition... Official Awards...
The Golden Lion Award for cities is awarded to Bogota, Colombia. This city has in the last decades addressed the problems of social inclusion, education, housing and public space especially through innovations in transport. Bogota has applied Mies van der Rohe's dictum 'less is more' to the automobile: less cars means more civic space and civic resources for people. The city provides a model for streets which are pleasing to the eye as well as economically viable and socially inclusive. Bogotá is, in short, a beacon of hope for other cities, whether rich or poor.

10th International Architecture Exhibition The 10th International Architecture Exhibition runs until November 19, directed by Richard Burdett. Dedicated to Cities. Architecture and society, this edition focuses on the key factors facing large scale metropolitan areas around the world. The official prizes were awarded on November 8 in Venice.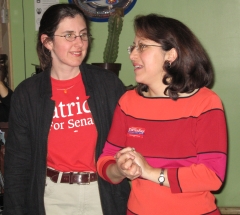 November 8, 2006 (mpls.startribune.com) Colombian native elected for Minnesota State Senate

Colombian Patricia Torres Ray, from Pasto, Narino, has been elected for the Minnesota State Senate District 62. In one of the city's most stunning political stories in recent memory, Patricia Torres Ray early this year captured the DFL endorsement in Senate District 62, leapfrogging over City Council Member Scott Benson and six other candidates vying to succeed retiring state Sen. Wes Skoglund. Because she faced little competition from Republican or Green Party candidates in November, Torres Ray, 42, will become the first Latina woman ever to serve in the state senate when she takes office in January. Patricia Torres Ray is very humble about her meteoric political ascension, is proud of her roots in rural Colombia, and has a social vision for Minneapolis and her adopted state. Patricia immigrated to Minnesota, 1987; she holds B.A., urban studies, and master's, public affairs, University of Minnesota. "I came to this country after marrying Jack. We have two boys, Tomas and Patrick. I have worked in social services for 16 years. I garden, hike, bike, dance and canoe for relaxation."

"I believe the most important responsibility of any society, and of any government toward its people, is to provide an environment where all children have an opportunity to grow up to be productive citizens. This is the most basic social contract and the fundamental value of a civilized society. Minnesota has been retreating from this responsibility and this must stop. I insist we must invest abundantly in education and make our public education system in Minnesota the best in the world. We must focus unwaveringly on this until we succeed. The future of our state depends on our success." Patricia Torres Ray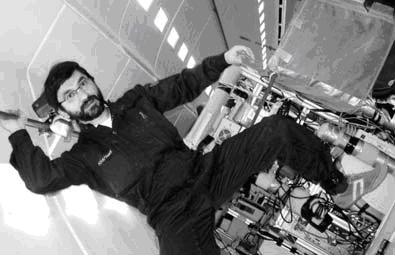 November 4, 2006 (www.eltiempo.com) Six brilliant Colombians, key in future of NASA and Euro Space Agency projects

Colombian Mauricio Hoyos, from Bogota and Physics graduate from Universidad Pedagógica, runs experiments on the same Airbus plane in which the first surgical operation under no-gravity was performed a month ago. Mauricio works for the Laboratoire de Physique et Mécanique des Milieux hétérogènes (PMMH) in Paris, France. Mauricio is one of six Colombian researchers that are deeply involved in key projects.

Three of these Colombian researchers work on space shuttles: one tests the manufacturing materials, one checks the shuttle before every single mission, and one designs shuttle trajectories. Two more researchers have dedicated their lives to searching for planets and experimenting with human blood behavior in space. One woman is responsible for first trip to Jupiter.
---
Adriana Ocampo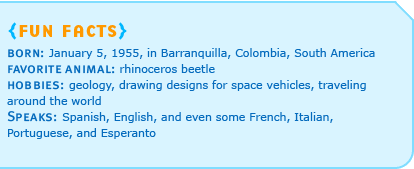 Adriana never stops exploring and learning. In 1984 she began what became a 14-year job working on Galileo, a robotic mission to explore Jupiter. Nowadays she plans missions to look for more evidence about the Crater of Doom.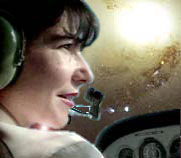 ---
Edbertho Leal Quirós
(http://www.pupr.edu/mteixeir/faculty_page/E_Leal_Page.htm)
Edbertho Leal Quirós, Ph.D., Associate Professor and Director of Scientific Research & Development at Electrical and Computer Engineering and Computer Science Department of Politechnic University of Puerto Rico. Edbertho Leal Quirós was born in Macarvita, Santander, and is a graduate from Universidad Nacional de Colombia. NASA has retained Dr. Leal to analyze materials that can withstand the sun heat, as well as test the behavior of elements that ride in the space shuttles at high temperatures. His research interests are in Plasma Physics, Laser Optics, Linear Accelarators and Nuclear Reactors, and ION Sources

Jaime Forero
Jaime works for the Austronauts Office of NASA. He checks the shuttle before every single mission to verify that every thing is working in order. He is from Bogota.

César Ocampo
Cesar Ocampo is from the state of Quindio. Dr. Cesar Ocampo earned his Ph.D. from the University of Colorado at Boulder in 1996. He joined the faculty of The University of Texas at Austin in 2000. Dr. Ocampo researches astrodynamics and celestial mechanics. Specifically, he helps design space missions. Ocampo recently lead software development in a mission planning and navigation project for communications satellites equipped with xenon-ion propulsion systems. He was recently the lead trajectory analyst for the recovery of a stranded satellite that used the Moon's gravity to return to its intended geostationary orbit without using much fuel. Before coming to the university, Ocampo worked for Hughes Space and Communications Company in Los Angeles as a senior orbital analyst where he was part of the Mission Analysis and Operations section and involved with mission planning and operations for commercial satellites.

David Ardila
David Ardila, from Bogota, studief physics at Universidad de los Andes. He is an astronomer with the Spitzer Space Telescope, in charge of the photometric calibration of the Infrared Spectrograph. He has a B.Sc. in Physics from the University of Los Andes, and a Ph.D. in Astrophysics from U.C. Berkeley. He has worked in a variety of fields. He searches for planets in the space.

Raúl Joya
Colombia will lounch its first satellite into space. The satellite name is 'Libertad 1' and it will be launched from Kazajstan. The project, which was developed at the Universidad Sergio Arboleda, consists of sending a 10-by-10 cm box in a rocket. The box will be in orbit during six months and it will send information to a process center. Raul Joya is the project director.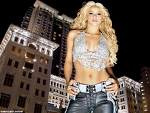 November 3, 2006 (http://music.msn.com) Shakira Wins 4 Latin Grammy Awards

Shakira dominated the Latin Grammy awards as she won a leading four trophies, including album of the year for "Fijacion Oral Vol. 1" and song and record of the year honors for "La Tortura," her smoldering duet with Alejandro Sanz, on Thursday night. Though Shakira, who also won best female pop vocal album, stole the spotlight at the event — gyrating her way through a rendition of "La Tortura" with her chest heaving and hips swaying — she also took the time to shine a light on one of the most heated issues in the United States, that of immigrants working in this country illegally. She threw her support to those trying to become citizens as they work without documentation. "I hope soon they will receive they recognition they deserve from the government," said the Colombian superstar said. Her album also picked up another award for its engineers. Other multiple winners included the reggaeton group Calle 13 and Argentine rocker Gustavo Cerati.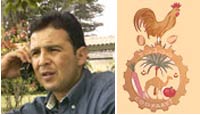 28 September, 2006 (http://www.unep.org) Colombian Combatant of Global Desertification Wins Key Environment Prize

Winners of 2006 United Nations Environment Programme Sasakawa Prize Announced.
The daily struggle of billions of people living in the world's drylands is being recognized through the awarding of a key environment prize to two grassroots initiatives. The United Nations Environment Programme (UNEP) announced today that Rodrigo Vivas Rosas of Colombia and the Tenadi Cooperative Group of Mauritania will be the recipients of the 2006 UNEP Sasakawa Prize. The co-winners, who will receive their awards next month, are being honored for their achievements in combating desertification and land degradation—a major local and global problem that threatens the lives and livelihoods of two billion people inhabiting the planet's dry and arid areas. The award underlines that many of the solutions to overcoming the global threat of desertification reside in the hands of local grassroots communities and indigenous peoples, including women and small-scale farmers. Achim Steiner, United Nations Under-Secretary General and UNEP Executive Director said today: "This is an award for the literally hundreds of thousands of grassroots initiatives trying to conserve the health and the fertility of the land in some of the harshest environments on the globe. In honoring Mr. Vivas Rosas and the Tenadi Cooperative we also honor these countless unsung individuals and groups whose commitment, creativity, tenacity and steadfastness are a lesson to us all".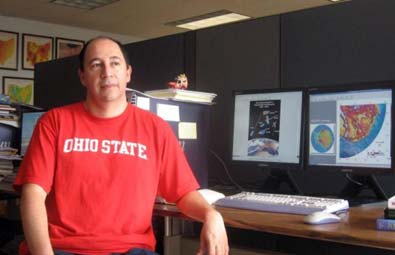 October 14, 2006 (researchnews.osu.edu) Colombian researcher in team that discovered meteor impact on earth

BIG BANG IN ANTARCTICA -- KILLER CRATER FOUND UNDER ICE. Ancient mega-catastrophe paved way for the dinosaurs, spawned Australian continent.
Orlando Hernandez, graduate students in geological sciences at Ohio State Colombian researcher Orlando Hernandoez, geological sciences researcher at Ohio State University, and the members of planetary scientists have found evidence of a meteor impact much larger and earlier than the one that killed the dinosaurs -- an impact that they believe caused the biggest mass extinction in Earth's history. The 300-mile-wide crater lies hidden more than a mile beneath the East Antarctic Ice Sheet. And the gravity measurements that reveal its existence suggest that it could date back about 250 million years -- the time of the Permian-Triassic extinction, when almost all animal life on Earth died out. NSF and NASA funded this work. Collaborators included Stuart Wells and Orlando Hernandez, graduate students in geological sciences at Ohio State; Luis Gaya-Piqué and Hyung Rae Kim, both of NASA's Goddard Space Flight Center; Alexander Golynsky of the All-Russia Research Institute for Geology and Mineral Resources of the World Ocean; and Jeong Woo Kim and Jong Sun Hwang, both of Sejong University in Korea.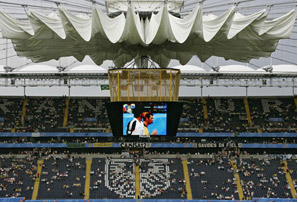 September 20, 2006 (www.proquinal.com) Colombia-made seat covers at World Cup 2006

Colombian company Proquinal was the provider of the vinyl coated fabrics that were used to finish the VIP seats of the 2006 World Cup stadium of Frankfurt, Germany. This Colombian company was selected from a pool of 49 companies from Germany and Spain. The supplied 9,000 meters of vinyl coated fabrics made in Colombia certainly lived up to their high product quality expectations. Proquinal has specialized in the highly narrowed market of special fabrics. Proquinal has sold its products to the airports of Dubai, St Petersburg, Miami, Bogotá, and Istambul. Products have been also solde to 300 commercial local of Pizza Hut in China, Vancouver Sports Arena, and the Rockodromo of Madrid. Proquinal is a leading company manufacturing and distributing vinyl-coated fabrics, films and PVC foams, offering a wide variety of designs and colors meeting global specifications and needs to assure quality, safety and reliability for each of our products. "Proudly made in Colombia by a company that understands the worldwide community."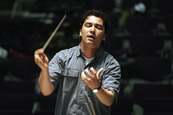 September 19, 2006 (www.styriarte.com) A Young Colombian Maestro succeeding in Europe

Andrés Orozco-Estrada was born in 1977 in Medellin (Colombia). At the age of five he started to play the violin, at the age of 15 he conducted the orchestra of his Music High school. In 1992 he started to study conducting. At the same time he continued his violin studies at the "Universidad Javeriana" in Bogotá. 1997-2003 he studied conducting in the master class of Uros Lajovic at the Vienna Music University. He finished his studies in May 2003 with a performance of Maurice Ravel's La Valse with the Vienna Radio Symphony Orchestra at the Musikverein. During his studies in Vienna, Andrés Orozco was chosen to represent his university at the "First International Conducting Course" in Dresden, led by Sir Colin Davis. He participated at the "International Lovro von Matacic Conducting Competition" in Zagreb and was elected semifinalist at the "Hungarian Television 10th International Conductors' Competition" in Budapest.

Andrés Orozco is regularly conducting the orchestras and choirs of his home country Colombia: Orquesta Filarmonica de Medellin, Orquesta Filarmonica del Valle, Orquesta Sinfonica Universidad Eafit as well as Coral Tomas Luis de Victoria and Coro Polifonico de Medellin. In Vienna Andrés Orozco has particularly concentrated on contemporary music. In 2000 he was selected to represent Austria at the Festival of Contemporary Music "Biennale Internazionale di Torino" where he conducted several concerts with the "Anti Dogma Orchestra". In a concert for the "Austrian Society of Contemporary Music" in May 2003 he premiered three pieces of Austrian composers making at the same time his debut with the "Tonkünstler-Orchester Niederösterreich".

In Vienna he also premiered the operas Die Geschichte des Picando by Gernot Schedlberger and Der gestiefelte Kater by Perikles Liakakis (with the ProArte Orchestra Vienna). He has conducted performances of Orfeo ed Euridice by Gluck in Munich (Orpheus Ensemble Munich) as well as Il Campanello by Donizetti at the Court Theatre of Schönbrunn (Solisti del Teatro Bratislava).

After a guest conducting in October 2001 Andrés Orozco was elected the new Principal Conductor of the Orchestra of the Technical University of Vienna. With this orchestra he has rehearsed and performed a waste repertoire in both concert and opera sector. During the Spanish and Italian EU presidencies he conducted concert performances of Le nozze di Figaro, Don Giovanni and Don Carlo at different venues in and around Vienna. Additionally he led several CD recordings and tours to Poland and Spain with this orchestra.

In the season 2003/04 Andrés Orozco-Estrada has been invited to conduct the Colombian National Orchestra, the Philharmonic Orchestra of Bogotá, the Radio Symphonie Orchestra Belgrade as well as the Tonkünstler-Orchester Niederösterreich. Beginning with the season 2004/05 Andrés Orozco will be the Associate Conductor of the Tonkünstler-Orchester Niederösterreich.

In 2005 he also made his debut at the styriarte Graz. After a concert with recreation – Großes Orchester Graz he was immediately appointed new Principal Conductor of the orchestra (until 2008). In this position he will conduct subsciption concerts as well as concerts at the styriarte. Future plans include concerts with the Sinfonieorchester Basel, the Orchestre Philharmonique du Luxembourg, the Slowac Philharmonic, the Symphonieorchester Vorarlberg and with the Deutsches Symphonie-Orchester Berlin (debut in the Philharmonie Berlin).
---
2006-09-19 (www.inlineplanet.com) The 2006 World Speed Skating Championships: Colombia the Champion, again !

Colombia continues its dominance in World Speed Roller Skating in 2006. Colombian Cecilia (Chechi) Baena was named the best female roller skater in the world. The 2006 World Speed Skating Championships were notable on several accounts: the continued dominance of the Colombians, the rise of South Korea as a world skate power, and the scrappy strength of the island nation of New Zealand. (www.fedepatin.org.co)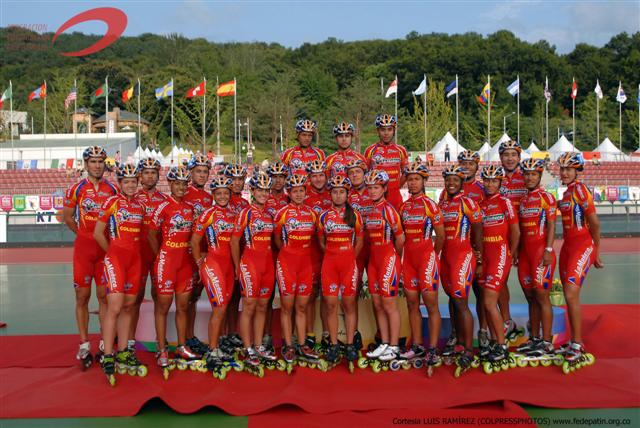 Medal Count:
Final standings
Colombia: 42
16 gold
15 silver
11 bronze
South Korea: 25
8 gold
8 silver
9 bronze
USA: 16
7 gold
3 silver
6 bronze
---
Colombian World Champion 2006 (click on each picture to see large picture)

| | | |
| --- | --- | --- |
| | | |
---
Chechi Baena, Best in the World (click on each picture to see large picture)

| | | |
| --- | --- | --- |
| | | |
---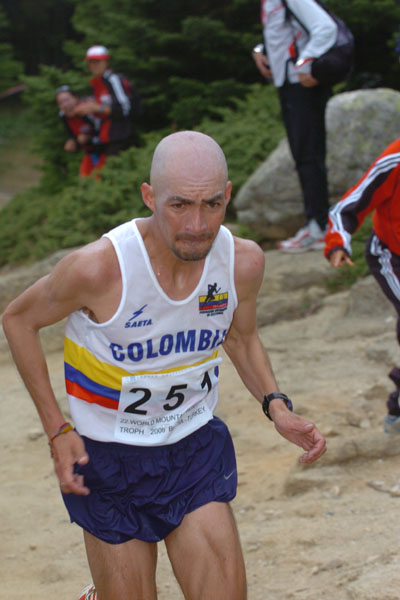 September 11, 2006 (www.iaaf.org) Rolando Ortiz of Colombia - World Mountain Running Trophy Winner

Colombian Rolando Ortiz wins premier position - World Mountain Running Trophy. In a thrilling finish to the 12km 1275m climb uphill race, Colombian Rolando Ortiz out sprinted five times World champion Jonathan Wyatt (NZL) in the final 200m to win by 6 seconds in a time of 56:16. In the women's competinon Colombian Yolanda Fernández finished in sixth place with another outstanding performance. The number of countries entering athletes reached new record numbers with 36 countries from Europe, Africa, South America, North America, and Oceana, all winning medals.
---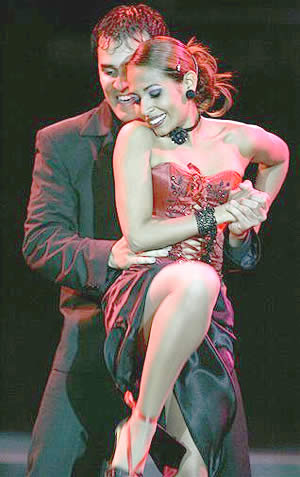 08/28/2006 (www.azcentral.com) Argentina: Colombian couple wins tango contest

Diana Patricia Giraldo Rivera and Carlos Alberto Angel Paredes, from Colombia, won the Fourth World Tango Championships in the "Tango Escenario" Division in Buenos Aires, Argentina. More than 150 couples from 22 countries participated. The "Tango Escenario" Division is reserved for professional dancers of this traditional dance of the Rio de la Plata. It includes complicated movements, almost acrobatic. Hollywood actor Robert Duvall, married to an Argentine lady and a Tango fan, was present in all the championship sessions sitting in the stands along with vicepresident Daniel Schili.
---
July 2006 (www.youtube.com) Colombian world salsa champions perform in London

Ricardo Murillo & Viviana Vargas, double world salsa champions performing at Festival Encuentro Latino in london, July 2006. Filmed and edited by Mike Tapa.
---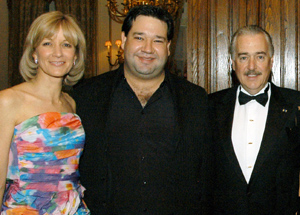 June 29, 2006 (www.washdiplomat.com) Colombia Opens Residence to Charities and Opera featuring Valeriano Lanchas

Colombian Ambassador Andrès Pastrana and his fashionable wife Nohra have hit this town with a bang. And why not? After all, he is a recent president of Colombia, and the couple clearly has the "know how" to get attention for what's important to them. In June, they hosted two operatic evenings to benefit two very different causes. The first was to help the 10,000 Colombian children who are born with cardiovascular problems each year. Because 40 percent of Colombians do not have any type of health care, Colombian doctors Reynaldo and Camilo Cabrera created the Fundación Cardio-Infantil at the Instituto de Cardiologia in Bogotá in 1973. Today, 276 children have had 596 surgeries.

To benefit this foundation, the Pastranas opened their home for a first-time black-tie event that raised $200,000 and featured Colombian opera star Valeriano Lanchas, now with the Washington National Opera. Earlier in his career, Lanchas was anointed as a Domingo Cafritz Young Artist here in Washington.
---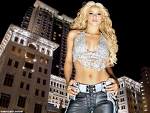 June 8, 2006 (www.billboard.com) Digital Explosion Drives Shakira's 'Hips' To No. 1

After entering the charts 12 weeks ago at No. 84, Shakira's "Hips Don't Lie" featuring Wyclef Jean finally tops the Billboard Hot 100 and is the chart's greatest digital sales gainer. "Hips Don't Lie" amassed a record-setting 266,500 downloads, accounting for its 38-1 explosion on Hot Digital Songs and its 9-1 move on the Hot 100.

The track also crowns the Hot Latin Songs chart for a fourth week and both the Hot Digital Songs chart and the Pop 100 for its first. "Hips" had been held back by Epic from the digital spectrum in a bid to increase sales of Shakira's re-issued "Oral Fixation Vol. 2" album. It thusly shatters the one-week download mark of 175,500 set by D4L's "Laffy Taffy" in the post-Christmas week last year
---
May 1, 2006 (www.chambermusicsociety.org) Jorge Eduardo Movilla stands out at The American Boychoir

Jorge Eduardo Movilla, boy soprano, is a sixth grade student at the renowned American Boychoir School in Princeton, New Jersey. Originally from Barranquilla, Colombia, Jorge made his public singing debut at the age of six in a school play at Marymount, a private bilingual school in his hometown. He continued to sing there in school programs, Christmas pageants and masses, and at the Amira de la Rosa Theater of the Performing Arts until joining The American Boychoir in 2003. Since becoming a member of the Boychoir, Jorge has traveled throughout the Northeastern and Southern United States under the direction or Resident Training Choir Director Lynnel Joy Jenkins and Litton-Lodal Music Director Fernando Malvar-Ruiz. Most recently, he performed with the Boychoir and the Boston Symphony Orchestra in Gustav Mahler's Symphony No. 8 under James Levine, soprano Jessye Norman at the Closing Ceremony of the U.S. Open Women's Tennis Finals and The Philadelphia Orchestra in six holiday concerts. The American Boychoir is the United States' premier concert boys' choir and one of the finest boychoirs in the world. Its members pursue a rigorous musical and academic curriculum while participating in a busy national and international touring schedule, recording projects and radio and television broadcasts.
---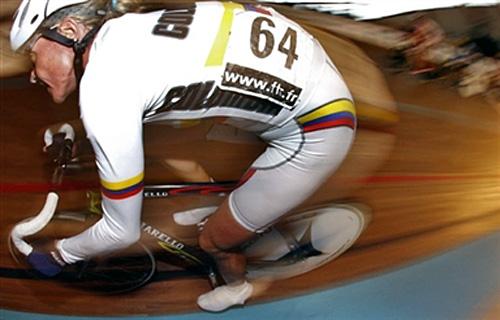 April 17, 2006 (www.cyclingnews.com) Colombian Maria Luisa Calle Williams is the World Champion in Women's scratch race

Maria Luisa Calle Williams found a way to the front of the pack on down the inside, and was able to hold a good position to the finish, while Gina Grain from Canada was caught high and wide once the sprint for third started. "My trainer said go to the front, and for the last two laps I was looking for the Canadian to see if she was going to pass me, but she could not," was how Calle Williams explained her tactics. Slioussareva led out and held on for the bronze medal, but the win was the Colombian's, with Grain unable to contest the sprint giving her the silver medal. Calle Williams had won bronze at the Athens Olympics in the points race, but was still in disbelief at her success when Cyclingnews caught up with her. "I think now that I'm dreaming. I still don't believe it!" She found the pace tough, and was a little worried she had made her attack too far from home. "When I went out of the group, to go up to the Canadian girl, we still had eighteen laps to go, and I think the group will catch me, and there is so much laps to go!"
---

April 17, 2006 (abc.com) Colombian Francisco Patiño is finalist of ABC's INVENTOR

Colombian Francisco Patiño is one out of four finalists of ABC's INVENTOR show. Francisco Patino, 19, was born in Barranquilla, Colombia. After his sister passed away at the age of 7, he became determined to make something great of his life. He came to America at age 12 to live with his father in New York City. He is currently a student at Queens College in New York and also runs a carpet cleaning business with his uncle. Francisco was inspired to create the Double Traction Bike because all of the kids in his neighborhood ride on each other's bike handlebars to get around. He is a passionate inventor and also hopes to go to law school in the future.

INVENTION:
The Double Traction Bike - A new bike design that features a second seat on the handlebars of the bicycle, so that a second rider can sit up front and help power the bike with their own set of pedals. A safer and more efficient way for kids to ride on the handlebars of their friends' bikes.
---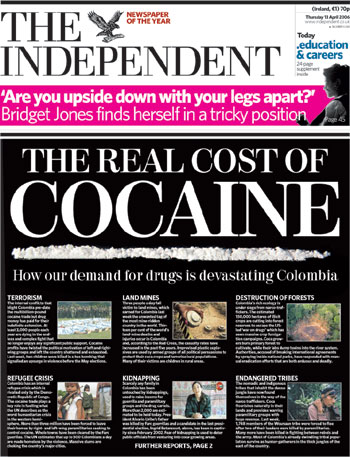 April 13, 2006 (The Independent.) The real cost of cocaine. How our demand for drugs is devastating Colombia
Published: 13 April 2006 by The Independent (United Kingdom)
TERRORISM
The internal conflicts that blight Colombia pre-date the multibillion-pound cocaine trade but drug money has paid for their indefinite extension. At least 3,000 people each year are dying in the endless and complex fight that no longer enjoys any significant public support. Cocaine profits have twisted the political motivation of left and right-wing groups and left the country shattered and exhausted. Last week, two children were killed in a bus bombing that signalled an upsurge in violence before the May elections.
LAND MINES
Three people a day fall victim to landmines, which earned for Colombia last week the unwanted tag of the most mine-ridden country in the world. Thirteen per cent of the world's landmine deaths and injuries occur in Colombia and, according to the Red Cross, the casualty rates have increased in the past five years. Improvised plastic explosives are used by armed groups of all political persuasions to protect their coca crops and terrorise local populations. Many of their victims are children in rural areas.
DESTRUCTION OF FORESTS
Colombia's rich ecology is under siege from narco-traffickers. The estimated 150,000 hectares of illicit crops are cutting into forest reserves to escape the US-led 'war on drugs' which has seen massive crop fumigation campaigns. Coca growers burn primary forest to cultivate, while their labs dump toxins into the river system. Authorities, accused of breaking international agreements by spraying inside national parks, have responded with manual eradication efforts that are both arduous and deadly.
REFUGEE CRISIS
Colombia has an internal refugee crisis which is rivalled only by DR Congo. The cocaine trade plays a key role in fuelling what the UN describes as the worst humanitarian crisis in the western hemisphere. More than three million have been forced to leave their homes by right- and left-wing paramilitaries seeking to control cocaine. Whole towns have been cleared by the Farc guerillas. The UN estimates that up to 500 Colombians a day are made homeless by the violence. Massive slums are choking the country's major cities.
KIDNAPPING
Scarcely any family in Colombia has been untouched by kidnappings, used to raise income for guerrilla and paramilitary groups and the drug cartels. More than 2,000 are estimated to be held today. President Alvario Uribe's father was killed by Farc guerrillas and a candidate in the last presidential election, Ingrid Betancourt, above, has been in captivity since February 2002. Fear of kidnapping is used to deter public officials from venturing into coca-growing areas.
ENDANGERED TRIBES
The nomadic and indigenous tribes that inhabit the dense jungle have now found themselves in the way of the narco traffickers. Coca flourishes naturally in their lands and provides warring paramilitary groups with huge revenue. Last week, 1,748 members of the Wounaan tribe were forced to flee after two of their leaders were killed by paramilitaries. Many more have been killed in fighting between rebels and the army. Most of Colombia's already dwindling tribal population survive as hunter-gatherers in the thick jungles of the east of the country.
---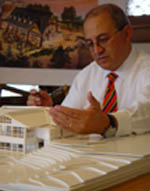 March 30, 2006 (www.sgadesign.com) Colombian architect DANIEL SAAVEDRA receives "The Isaac Wilson Award" and special recognition from Colombia community
Colombian architect Daniel Saavedra is Recipient of Premio Colombia Exterior a La Excelencia, April 2006 (outstanding "contribution to a better world" by a Colombian"). He is from Bogotá and partner of Saavedra Gehlhausen Architects in Rockford, IL. His company,Saavedra Gehlhausen Architects, is a full service organization with architects, interior designers, medical office developers, and outside consultants offering comprehensive services for projects throughout the United States, Central, and South America. Saavedra Gehlhausen Architects in Rockford is the recipient of the prestigious Isaac Wilson Award for outstanding success, leadership, and community involvement. The award was presented by the Rockford Regional Chamber of Commerce Minority Business Council in November, 2005. More than 400 people including business owners, the banking community, and the media, were present as Saavedra addressed the audience.
---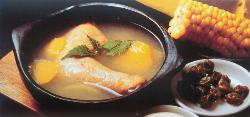 March 1, 2006 (www.washingtonpost.com) AJIACO Bogotano - When treasured national foods are served at dinners on Embassy Row, even the presentation is authentic.

(By Walter Nicholls - Washington Post Staff Writer)

Recipes
From the Embassies
Ajiaco Bogotano (Chicken and Potato Soup)
Makes about 22 cups

Colombia's national dish calls for three types of potatoes, one of which, a yellow potato, is native to the country. It breaks down during the cooking process, helping to thicken the soup. Some Americanized versions of the recipe suggest that Yukon Gold potatoes can be substituted, but embassy chef Gladys Rodriguez insists on the native papa criolla. Guascas, a South American herb, imparts a grassy flavor to the soup. When Rodriguez serves this at the embassy, she provides corn cob holders along with the soup spoons.

1/4 of an onion, sliced lengthwise
1 bunch cilantro
6 scallions, white parts only
1 clove garlic
1 stalk celery
4 quarts water
One 3 1/2 -pound chicken, skinned and quartered
4 chicken bouillon cubes
4 ears corn
2 pounds red bliss potatoes, peeled and cut into medium slices
3 pounds russet potatoes, peeled and cut into medium slices
2 pounds papa criolla* (Colombian yellow potatoes), peeled and quartered One 0.35-ounce packet dried guascas*
Salt
Freshly ground black pepper
1/2 cup heavy cream, for garnish
3 avocados, coarsely chopped, for garnish
1/2 cup capers (not drained), for garnish
Aji Salsa, for garnish (recipe follows)

On a large piece of cheesecloth, bundle together the onion, cilantro, scallions, garlic and celery. Gather the corners of the cheesecloth and fasten with kitchen twine to form a version of a bouquet garni. Place it in a large stockpot with the water, the chicken pieces and the bouillon cubes. Bring to a boil, then reduce the heat to medium-low and simmer, with bubbles just breaking the surface, for about 30 minutes, skimming any foam that forms on the top, if necessary. Remove the chicken. When cool, shred the breast meat and set aside. (Reserve the thigh and drumstick meat for another use.)

Increase the heat to medium-high and add the corn and red bliss potatoes to the pot. Boil for 10 minutes. Add the russet potatoes and cook for 20 minutes. Add the papa criolla and half of the packet of guascas and stir. Reduce heat to low and simmer for 1 hour or until thickened. Remove the corn and, when cooled enough to handle, cut cobs into 2-inch rounds. Return corn to the pot with the remaining half-packet of guascas.

Remove and discard the bouquet garni. Add salt and pepper to taste. Ladle the soup into individual bowls. Serve with shredded chicken and other garnishes in separate serving bowls.

*NOTE: Papa criolla are available in jars or frozen at Latin American specialty markets. Packets of the herb, guascas, also are available at Latin American markets.

Per 1 cup serving: 121 calories, 4 g protein, 26 g carbohydrates, 0 g fat, 0 mg cholesterol, 0 g saturated fat, 9 mg sodium, 3 g dietary fiber
---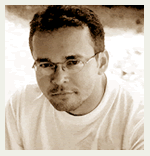 February 7, 2006 (colombia.com) Colombian poet John Jairo Junieles wins award in Costa Rica Colombian journalist and writer John Jairo Junieles won the II "Ciudad Alajuela" International Poetry Award, which is awarded in Costa Rica. John Jairo won with his new book "Passenger with ticket to a strange land". This award is one of the most renowned ones in Central America. Junieles, who received $5,000 and the publication of his book, was selected as winner among 327 participants who sent their works from Costa Rica (122), América (114), Europa (62), Asia (22), África (6) and Oceanía (1). John J. Junieles was born in Sincé, Sucre, Colombia (1970), lived in Cartagena de Indias for several years, and currently resides in Bogotá.
---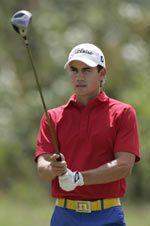 February 7, 2006-02-07 (gpa.com) Colombian Golfer Camilo Villegas second FBR Open Colombian golfer Camilo Villegas finished second in the FBR Open behind John Holmes from the United States. The FBR Open was held in Arizon, USA, and became the best performance for Villegas in his very short professional golfing career. Villegas is from Antioquia and signed a card for 69 strokes (three under par). During Sunday session Villegas hit four birdies, two bogeys and moved up from the sixth position to the second. This is the best performance ever by a Colombia native golfer in the PGA Tour. In third start of rookie season at the FBR Open, finished in five-way tie for second, seven strokes behind winner J.B. Holmes. Posted four rounds in the 60s for the first time in his 15-event TOUR career. Earned $312,000 for his efforts.
---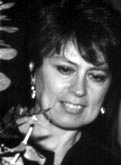 January 25, 2005 (www.grinzane.it) Laura Restrepo wins 'Grinzane Cavour' Award

Colombian writer Laura Restrepo has added another award to her long award list. This one is the Grinzane Cavour Award for fiction literature, which was awarded because of her piece 'Delirio', in the category of best foreign novel. The announcement was holde at the Cirgnado Theater in Turin, Italy. Laura Restrepo had won the prestigious Premio Alfaguara de Novela 2004 for her book Delirio as well.

Her work is published simultaneously in Spain and 18 American countries. Restrepo has dedicated her life to politics, journalism and literature. In 1983 she was named by President Belisario Betancur a member of the peace commission negotiating between the Colombian government and the country's M-19 guerrillas. She lived in political exile until 1989, when M-19 was converted into a legal opposition party, allowing her to return to her country. She has worked on the magazine Cromos and has been editor, among other publications, of the magazine Semana. In Mexico she wrote as a columnist for the La Jornada newspaper and the magazine Proceso. Restrepo published her first book, Historia de un entusiasmo, in 1986. She has since published La isla de la pasión (1989), Leopardo al sol (1993), Dulce compañía (1995), La novia oscura (1999), La multitud errante (2001) and Olor a Rosas Invisibles (2002). She is co-author of Once ensayos sobre la violencia, Operación Príncipe, En qué momento se jodió Medellín and Del amor y del fuego, as well as a children's book, Las vacas comen espaguetis. Mexican Xavier Velasco was the winner in 2003 of the Premio Alfaguara for Diablo guardián.
December 14-17 (www.worldsalsachampionships.com) A couple from Colombia wins World Salsa Championships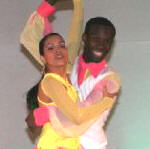 Congratulations to Colombian salsa dancers Ricardo Murillo and Viviana Vargas who won the first place in the Cabaret Division of the World Salsa Championships. Las Vegas was the scene for the most important and dramatic event to take salsa dancing to a larger viewing public. It was history in the making! The Cabaret division was the most difficult to judge. The top three were Jhesus and Marielys from Puerto Rico, Rodrigo and Yesenia from Los Angeles, and Ricardo and Viviana from Cali Colombia. Each one of them could have taken first place. In the preliminary rounds, one couple didn't display enough Salsa dancing, as part of the rules were that over 50% of the routine had to be recognizable Salsa. The judging criteria specified that a proper representation of Salsa dancing with lifts should clearly distinguish it from other gymnast-type of sports. The couple from Colombia clearly represented Salsa dancing with a few lifts and tricks both at the preliminary and final rounds. The other couples either made major mistakes in their routines or did not dance enough Salsa during the preliminary rounds that cost them the title at the finals.

The differing dance styles of Salsa are country-based. Although danced to the same music, the footwork, timing, and pattern styles look and feel completely different. For example, there is a Cuban Style and Puerto Rican Style. A derived variation from Cuban Style is Miami style. Derived variations from Puerto Rican style are New York and Los Angeles style. Colombia has its own style called Salsa Cali Style, which displays a more rapid-paced type of footwork. Tricks and lifts can be added to each style. In fact, this year the couple from Cali Colombia took first place Cabaret division. The footwork variations are endless, timeless, and beautiful in their own right. (By Edie, The Salsa FREAK)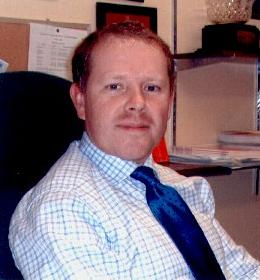 Nov 7, 2005 (http://www.geron.org) THE NATHAN SHOCK NEW INVESTIGATOR AWARD GOES TO COLOMBIAN DR. GUSTAVO DUQUE

The Nathan Shock New Investigator Award session is an annual lecture given by an individual who has made outstanding contributions to new knowledge about aging through basic biological research. S. Michal Jazwinski, PhD, Chair of the Shock Award Committee, is presiding the ceremony this year. The 2005 Shock Award will be presented to Gustavo Duque, MD, PhD. Dr. Duque will present his lecture "Senile Osteoporosis: Does it Really Exist?" Introduction of Dr. Duque will be made by George A. Kuchel, MD, FRCP. Gustavo Duque, MD, PhD, is an Assistant Professor of Medicine and Geriatric Medicine. He is the Coordinator of Undergraduate Medical Education at the Division of Geriatric Medicine. He is also a Teaching Scholar at McGill University and a Macy Scholar in Medical Education at Harvard University . His education interests relate to the education of Aging and Geriatrics throughout the medical curriculum. His main projects include the Trans-Curricular Teaching of Aging and Geriatrics (T.T.A.G. Project) and the McGill Electronic Evaluation Portfolio (MEEP). In addition, he is a clinician at the Division of Geriatric Medicine, Jewish General Hospital, and a researcher at the Bloomfield Centre for Aging Studies at the Lady Davis Institute for Medical research.

Nov 01, 2005 (grammy.com) Rocker Juanes Wins 3 Latin Grammy Awards

Colombian rocker Juanes won three awards and Spanish crooner Alejandro Sanz won two at Thursday's revamped Latin Grammys, which were broadcast in Spanish for the first time and showcased an expanding range of genres.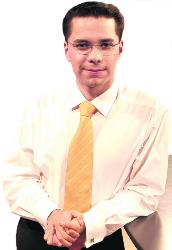 October 30, 2005 (www.cnnenespanol.com) Luis Carlos Vélez hired by CNN

Colombian economics and finance journalist Luis Carlos Vélez has been hired by CNN in Atlanta and will start his producing and commentating job in December, 2005. Vélez worked for Caracol and Citytv before moving to CNN. His responsibility will be to produce and conduct CNN shows regarding economics and finance. Vélez is a very young (26), talented journalist who has interviewed celebrities such as Condolezza Rice, Ronald Rumsfeld, and Phil Chicola, Subsecretary of State for Latinoamérica. Luis Carlos Vélez is an economist from Universidad de los Andes. He completed undergraduate course work at London School of Economics. He has got an specializaion in Management and Administration from Harvard University, in Massachussets.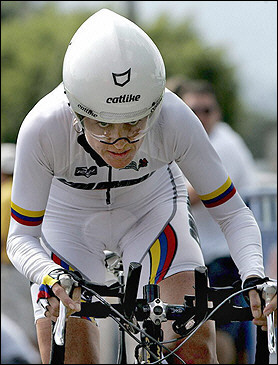 October 21, 2005 (news.bbc.co.uk) Calle recovers her Olympic bronze

Calle's medal was one of the two won by Colombia in Athens. Colombian cyclist Maria-Luisa Calle has been given back the bronze medal that was removed from her at the Olympics. The International Olympic Committee stripped Calle of her medal in the women's points race last year after she tested positive for a banned stimulant. The Court of Arbitration for Sport overturned the IOC's decision after agreeing with Calle's claim that the result was caused by a migraine remedy. Calle's disqualification meant bronze went to American Erin Mirabella.

The 35-year-old said she had taken paracetamol for a headache but the pain remained and, after medical advice, took a drug called neosaldina. Neosaldina contains isometheptene, a substance which can be transformed into the banned substance heptaminol during laboratory analysis. The CAS said that isometheptene was not mentioned on the 2004 prohibited list for Olympics the Games.
September 19, 2005 (Clarín.com) Colombian researchers want to capture electricity from clouds, Francisco José Román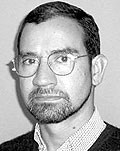 Colombian researchers are thinking in capturing electricity directly from clouds. Sky energy is usable, accurding to Colombian researchers. Although Benjamin Franklin did think about this too, the mechanism to capture and use this source of energy for daily usage has just been found. The energy produced by clouds could be used to generate electricity, states Francisco José Román, a Colombian scientist at Universidad Nacional de Colombia. His work made him the winner of the national science award in Bogotá last week. He acknowledges that this is not a new idea. But it has not been possible to use it as a source of power for daily use. "We found a mechanism that makes our innovation to show practical results", adds Roman. He is an engineer expert in electromagnetism who earnes his doctoral degree from universities in USA and Germany.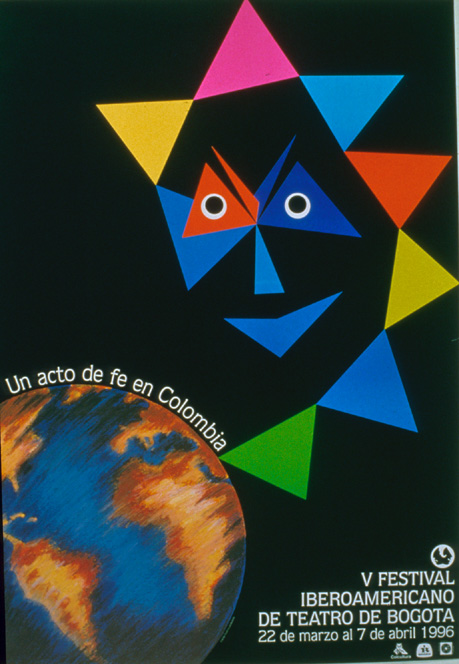 September 14, 2005 (vulture.library.colostate.edu) Marta Granados, Colombian designer, featured in International Poster Collection

Colombian designer Marta Granados was invited to participate in the International Poster Collection of Colorado State University Libraries. Created through the collaboration of the Colorado State University Libraries and the Department of Art, the International Poster Collection holds poster entries from the Colorado International Invitational Poster Exhibition (CIIPE). Posters from around the world can be found on this collection, which features posters from the seventh through fourteenth (1991-2005) shows, as well as an artist database containing biographical information. The collection is part of Archives and Special Collections. Marta graduated from schools such as Andes University, Bogota; Ecole Nationale De Arts Decoratifs, Paris; and Saint Martin's School of Art, London. She was a college professor at Universidad Nacional and a designer at Museo de Arte Moderno.
September 13, 2005 (starsofkarting05.eventlab.com) Colombian kart racer Sebastián Saavedra wins in USA

Colombian kart racer Sebastián Saavedra was the winner in the 2005 Snap-On Stars of Karting held at Bay Area MINI Dealers Grand Prix - PCH MOTORSPORTS JICA, Sosnoma (California). Saavedra defeated Jahan Mongul and con-national Gustavo Yacaman. Scott Rossi and Garrison Masters got fourth and fifth place. Congratulations Sebastiían.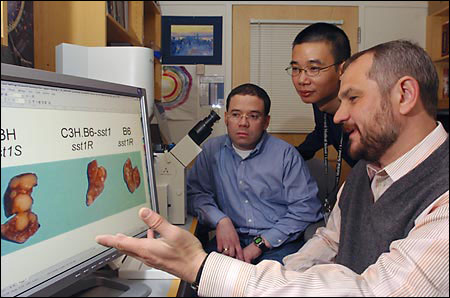 September 9, 2005 (www.hsph.harvard.edu) Colombian scientist Mauricio Rojas-Lopez one of researchers locate gene in mice that may play significant role in determining susceptibility to tuberculosis in humans

Colombian Mauricio Rojas-Lopez, Research Associate at the Department of Immunology and Infectious Diseases of Harvard University, and faculty member of Universidad de Antioquia, was a member of the team that located gene in mice that may play significant role in determining susceptibility to tuberculosis in humans. After years of careful work, investigators at the Harvard School of Public Health and Harvard Medical School have discovered a gene that, when absent, significantly increases susceptibility to TB, and perhaps other infections. The gene was found in mice, but it has a counterpart in humans that may act in much the same way. "The results are encouraging and highlight the role of genes in determining whether or not a person has a high risk of developing tuberculosis," says Igor Kramnik, assistant professor of immunology and head of the research team. "Finding a specific gene in a mouse that has a human equivalent may lead to diagnostic tests and strategies for prevention. Further studies will also increase our understanding of how our immune system works to protect us against invasions by live pathogens."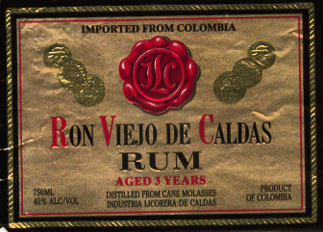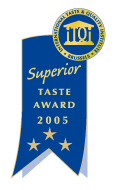 September 7, 2005 (www.itqi.org) Colombian Ron Viejo de Caldas internationally awarded as one of the best in its category

Famous Colombian rum "Ron Viejo de Caldas" was awarded by the International Taste & Quality Institute (iTQi) as one of the best aged rums in the world. Awards granted are used by manufacturers, distributors and dealers to promote their products. iTQi juries are selected among renowned European Chefs and beverage experts and work in close partnership with the 8 most prestigious European culinary institutions and the Association de la Sommellerie Internationale (ASI). The winner receives an international recognition of quality that will strengthen the marketing of your products, and your exports; a documented independent confidential report of the tests, with comments suggested by professionals of taste; a referencing of your products by iTQi with major international retailers and for beverages, with the 40 national ASI sommeliers associations; and a quality label of superior taste.

The Award is a powerful communication tool to be used in the commercial and promotional strategy of your products. Beverage and food products from around the world that are generally sold in grocery stores are eligible for annual evaluation.iTQi is an independent organization based in Brussels, capital of the European Union.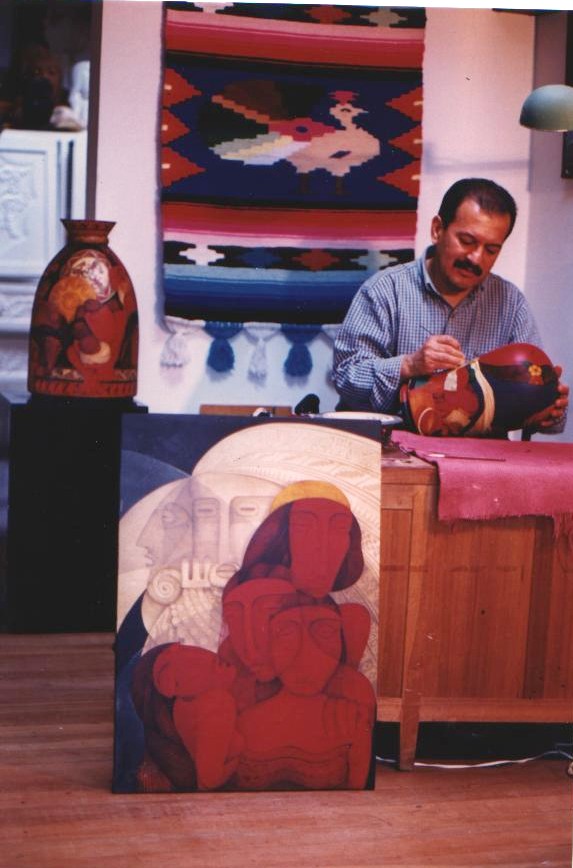 September 6, 2005 (www.barnizdepasto.freeuk.com) Artist Eduardo Muñox Lora, expert of the Barniz de Pasto exhibits his work in Europe
Muñoz Lora was born in Pasto in July 1945. He started working with the Barniz under the supervision of the late Francisco Torres whilst studying as a boy. Later he attended the 'Escuela de Bellas Artes' (Art School) at the University of Nariño. In recognition for his work and talent, 'Artesanías de Colombia' (Art crafts of Colombia, governmental institution) sponsored a course of Art and Design with the artist Carlos Rojas in Bogotá in 1973. Under the auspices of SENA, he participated in the Inter-American Design Competition in Bogotá in 1978. Going beyond the normal limits of the technique, he proposed a new aesthetic dimension to the Barniz, this is the result of an experimental process and constant investigation which allow Muñoz Lora and the application of this technique to grow and develop from its traditional roots. He began using different colours, applying the Barniz on objects of different size and shape. On wood and canvas, he began a new era with the maturity of the technique. Invited to participate as a speaker and expert of Barniz de Pasto but also representing general art & culture from the Region, Muñoz Lora attended conferences in each of the cultural centres of Colombia, sponsored by "Banco de la República" (National Bank).
He is co-founder of the School of Arts at the House of Culture in Pasto - Nariño, he is responsible for promoting the spirit of the region with the expression of popular art.The school represents his motives and sentiments: "the published artist belongs to dreams, dreams of the people. The pure art and applied arts are the strange fruit of a class difference, the integration of the two must be understood." Muñoz Lora has received numerous distinctions; one of them is the First place in "X Muestra de Artesania Iberoamericana". Central and South American competition, organized by UNESCO and Venezuelan cultural ministry. (Lecheria, Anzoategui, Venezuela 2002).
---
September 5, 2005 (www.patincarrera.com) Colombia Won the 2005 World Speed Skating Championships

The World Speed Skating championships have concluded for another year, and everyone will remember that China was a great host. Apart from the rain, there was some great racing and many fast new junior skaters have now entered the world scene. Overall, Colombia easily won the championships followed by the USA and Italy. France was 4th, New Zealand had a fantastic result coming in 5th and surprisingly Korea who dominated in so many races came in 6th. I would like to thank everyone who helped in putting this web site together in English, Spanish, Korean and Chinese. It was a very long 9 days and Colombian skaters shown their impressive shape and preparedness! Until next year, good bye! And Congratulations Colombia, you are the world power, enjoy!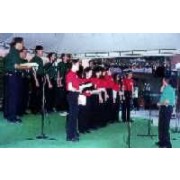 August 25, 2005 (vmk.veszprem.hu) Ensamble Vocal from Medellín awarded in Hungary

The 6th Vivace International Choir Festival, held in Hungary, awarded the Ensamble Vocal from Medellín with the Special certificate of the Veszprém City Choir. The members of this choir, young singers between 18 and 30 years old, competed against choirs from Finland, Czech Republic, Lithuania, Hungary, Latvia, Kenia, and Taiwan. These countries were selected after a previous screening by the jury, which listened to choirs from more than 50 countries.
August 20, 2005. (www.apa.org) Colombian Dr. Juan Carlos Arango recipient of prestigious Psychology Award

Dr. Juan Carlos Arango, a postdoctoral fellow at the University of Medicine and Dentistry of New Jersey, Medical School's Department of Physical Medicine and Rehabilitation, has been named one of four national recipients of the American Psychological Association's Presidential Latino Leadership Citations for Students and Early Career Psychologists. Dr Arango is a psychologist from the Universidad de Antioquia. The award, the APA Presidential Latina/o Leadership Citation for Students and Early Career Psychologists, is funded by a grant from Carlos Albizu University to encourage young Latina/o professionals to participate in leadership roles within psychology. APA recognizes dissertation/doctoral project-level Latina/o students and recent Latina/o graduates from APA-accredited professional psychology programs who demonstrate leadership in the profession. The contributions are not be limited to those that benefit only the Latina/o population, but rather those that affect any sector of the population in a manner that demonstrates commitment to social responsibility, value for human diversity and, optimally, the improvement of quality of life.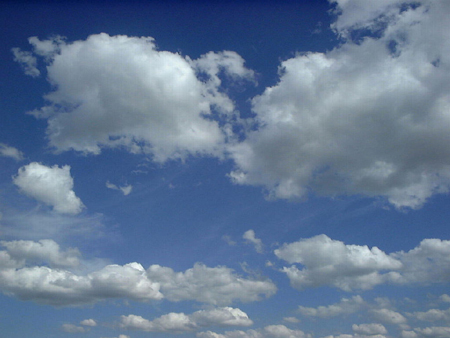 August 25, 2005 (asd-www.larc.nasa.gov/SCOOL/) Colombian children observe clouds and provide data to NASA

Colombian students from several schools are members of NASA's Students' Cloud Observations On-Line (S'COOL) Project, which was initiated in 1997 to obtain student observations of clouds coinciding with the overpass of the Clouds and the Earth's Radiant Energy System (CERES) instruments on NASA's Earth Observing System satellites. Over the past 10 years NASA has accumulated more than 9,000 cases worldwide where student observations are available within 15 minutes of a CERES observation. Reports on comparisons between the student and satellite data as one facet of the validation of the CERES cloud retrievals have been subject of scientific papers. Available comparisons include cloud cover, cloud height, cloud layering, and cloud visual opacity. The large volume of comparisons allows some assessment of the impact of surface cover, such as snow and ice, reported by the students. The S'COOL observation database, accessible via the Internet at http://scool.larc.nasa.gov, contains over 32,000 student observations and is growing by over 700 observations each month. Colombian students participate in this program. Some of the participating schools are the following: Colegio de Desarrollo Rural Miguel Valen, Antiquia; Institucion Educativa Heriberto Garcia Garrido, Sucre; Asociacion de Clubes de Astronomia del Atlántico, Barrio La Victoria, Barranquilla; Centro Formativo de Antioquia-CEFA, Medellin.

This is an effort to bridge the gap between scientific research, teacher instruction and student learning, the CERES Students' Cloud Observations On-Line (S'COOL) Project offers a unique perspective on how to narrow the divide between the 'real' world and the classroom. Reality-based learning has become a staple in the education of our youth and the S'COOL Project has taken this concept one step further.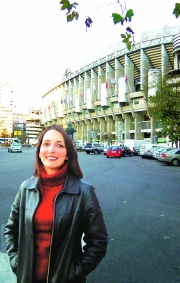 August 7, 2005 (www.realcafebernabeu.com) Colombian arquitecht Liliana Gutiérrez scores at San Bernabéu

Colombian arquitecht Liliana Gutiérrez from Medellín has just finished a work that will provide a comfortable to see a soccer game at Real Madrid's San Bernabéu stadium in Madrid: The Real Café Bernabéu. The Café is located on the south stands of the stadium completely integrated to the stadium through a window from floor to ceiling of 55 meters of lenght. Liliana was in charge of the interior design of this modern looking and cozy venue. Its name is Real Café Bernabéu and it opened last week. It is divided into two sections. The lower one is a bar where about 150 people will be able to enjoy a cup; and the upper one which is the restaurant part.
August 3, 2005 (www.mosi.org) Colombian Dr. Edmond J. Yunis named 2005 National Hispanic Scientist

MOSI Announces the 2005 National Hispanic Scientist of the Year. Dr. Edmond J. Yunis, Professor of Pathology at Harvard Medical School, and the former Chief of Department of Cancer, Immunology, & AIDS (1976-2000) at the Dana-Farber Cancer Institute in Boston, MA. MOSI, the Museum of Science & Industry in Tampa, Fla., announced that it has selected the honoree of the fifth-annual National Hispanic Scientist of the Year Award.

This year's honoree is Dr. Edmond J. Yunis, Professor of Pathology at Harvard Medical School, and the former Chief of the Department of Cancer, Immunology, & AIDS (1976-2000) at the Dana-Farber Cancer Institute in Boston, MA. The mission of the National Hispanic Scientist of the Year Award is to recognize outstanding national Hispanic scientists who promote a greater public understanding of science, and motivate Hispanic youths' interest in science.
Dr. Yunis was born in Sincelejo, Colombia, South America, where he received his MD in 1954 from the Universidad Nacional of Colombia. Dr. Yunis further received his postdoctoral training in pathology at the University of Kansas, the University of Minnesota, and the Children's Hospital Boston. Dr. Yunis joined Harvard Medical School in 1976 as Professor of Pathology and became Chief of the Division of Immunogenetics of the Dana Farber Cancer Institute that same year.

Dr. Yunis' research is important to the genetic mapping of human major histocompatibility complex (MHC) genes and their role in immune responses, aging, and autoimmune diseases. An important function of Dr. Yunis' laboratory work has been the identification of or typing for alleles of the major histocompatibility complex. The identification of HMC alleles and genotypes is important for matching donors and recipients for organ and stem cell transplantation.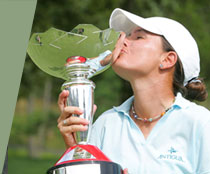 July 4, 2005 (www.lpga.com) Colombian Marisa Baena becomes the fifth Rolex First-Time Winner on Tour: World Champ

GLADSTONE, N.J. – Marisa Baena's Cinderella story has a happy ending. The 28-year-old and 60 th seed at the inaugural HSBC Women's World Match Play Championship pulled off six upsets in four days to become the fifth Rolex First-Time Winner on Tour this year. Baena beat rookie Meena Lee 1 up in a thrilling 18-hole championship match that saw the score switch on 13 of the 18 holes to earn a $500,000 first-place check, the largest ever in an LPGA Tour event. "I love match play and I have been waiting for this moment since I turned professional," said Baena, who has non-exempt status on the LPGA Tour and Monday qualified for three events at the beginning of the year. "I have finally gotten my confidence back. I believe in my swing now, I believe in myself." Baena got into the final match with wins over Natalie Gulbis (fifth seed), Grace Park (37 th seed and a major champion), Jennifer Rosales (21 st seed and a two-time LPGA champion), Karrie Webb (29 th seed and an LPGA Tour and World Golf Halls of Fame member) and a semi-final victory over Candie Kung (eighth seed and three-time LPGA Tour winner). She went 1 up on Lee after the first hole and never trailed throughout the match. From holes eight to 16, her lead bounced between 1 up and 3 up, which is where it stood with four holes to play.

But Lee was resilient as she battled back with birdies on 15 and 16 to cut Baena's lead to 1 up. Lee then made a fantastic up and down on 17 from the back rough, draining an eight-foot putt to send the match to the final hole. Still, despite the Lee's valiant effort and match-saving putts, Baena never flinched. "You always have to expect your opponent to make birdie," said Baena, who moved from 63 rd to seventh on the ADT Official Money List. "I was really expecting her to come back and make some birdies coming through the stretch, but I knew if I was able to par some of the holes coming in, I should be ok because those holes are very tough and I knew she was not going to birdie four in a row." Baena's thought process was as dead-on as her game, as they both made par on holes 17 and 18 to end the match. "I thought I had nothing to lose, so I tried to play aggressive on every hole," said Lee, who made $300,000 this week and was also runner-up at the LPGA Corning Classic in May. "I was hoping that if do that, eventually I might be able to turn the tide of the match."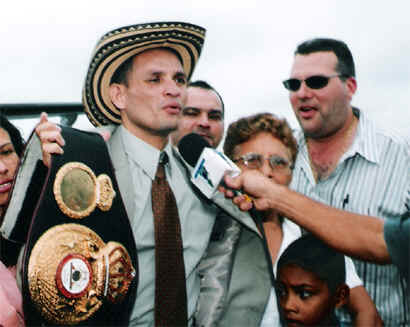 June 25, 2005 (www.msnbc.msn.com) Colombian junior welterweight Carlos Maussa new WBA champion
ATLANTIC CITY, N.J. - Colombian junior welterweight Carlos Maussa knocked out WBA champion Vivian Harris in the seventh round Saturday night in a bizarre fight that ended with Maussa hitting Harris while he was sprawled on the canvas. Maussa, an awkward brawler, connected with a left jab that knocked Harris on his backside with 43 seconds left in the seventh round of their scheduled 12-rounder, which was on the undercard of Saturday's Arturo Gatti-Floyd Mayweather, Jr. fight. Then he rushed over to where Harris was lying and hit him with a right to the head, which could have disqualified him. But referee Earl Brown, who called the late hit "insignificant," said Harris was already out from the left hand. He let Maussa's knockout stand.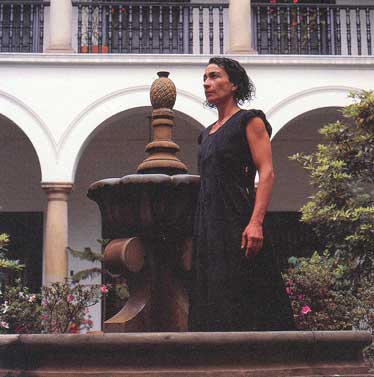 June 14, 2005 (El Tiempo.com) María Teresa Hincapié present in the Art Bienal of Venice
Colombian artist María Teresa Hincapié is the main Colombian delegate in the 51st International Art Exhibition of Venice Art Bienal, which opened to the public on June 12, 2005. Two Directors, María de Corral and Rosa Martínez, curated an exhibition that is made up of two different but complementary sections: The Experience of Art at the Italian Pavilion, and Always a Little Further at the Arsenale. The exhibition also includes 70 participating countries and 30 collateral events. Hincapié was the only Colombian present by direct invitation from the curators. Hincapié was Born in Armenia, Colombia, 1954. Lives and works in Bogotá, Colombia
June 8, 2005 (sportsillustrated.cnn.com) Botero wins time trial at Dauphine Libere, Armstrong finishes third

ROANNE, France (AP) - Lance Armstrong finished third in the time trial at the Dauphine Libere on Wednesday, behind winner Santiago Botero and Levi Leipheimer. Botero, the 2002 world time trial champion, completed the 29.1-mile sprint around Roanne in 1 hour, 6.55 seconds, while Leipheimer took the overall lead after finishing in 1:07.27. Armstrong crossed in 1:32.32. The six-time Tour de France champion had felt pressure heading into the time trial after some below-par showings earlier this season - including a fifth-place finish at the Tour de Georgia - but he was pleased with third place on Wednesday. "I'm on schedule,'' Armstrong said. "I feel much better than I did in Georgia, more comfortable on the bike. I started hard and fast today.'' Floyd Landis took fourth, with Alexandre Vinokourov in fifth, more than 30 seconds behind Armstrong. Vinokourov is considered one of Armstrong's main rivals at the Tour de France, where the American will attempt a seventh straight title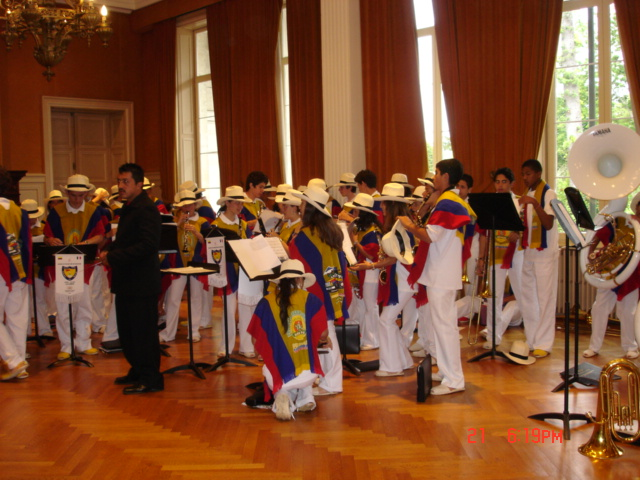 May 26, 2005 (www.embcolfrancia.com) La Banda de Neira triumphs in Paris

Colombian La Banda de Niera (Caldas, Colombia), made up by teenagers, was a success in Paris in a concert at the Saint-André de Bobigny church. It was the grand finale of the tour in France by this 51-member folk music band of Colombia. The French tour included Sarrebourg, northeast of France, opening the XVIII International Barroque Music Festival. Specialized in wind and percusion instruments, the Banda de Neira also performed at the Saint-Antoine de Cognac Church and Saint-Antoine de Cognac, both in southwest of France, and at La Rochelle Cathedral, westside of the country. The grand finale last night included performances of traditional Colombian folk music, classical and jazz music. The audience greatly enjoyed the performance and flooded the church with long lasting acclamations.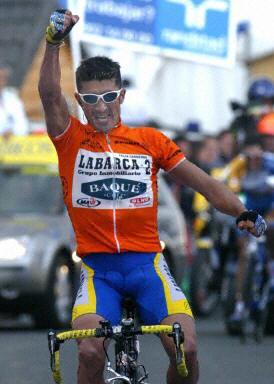 May 23, 2005 (www.caracol.com.co) Colombian cyclistFélix Cárdenas winds the Tour of Japan

Colombian cyclist Félix Cárdenas, from Santander, a member of Barloworld Team, won the Tour of Japan at the end of the sixth and last leg of the tour. Cárdenas took the first place in the overall standings at the end of the third leg and never gave it up. Sanderson from Australia won the last leg over 138 kilometers between Hibiya and Toki. The Aussie bet in the last push at the finish line others such as Assan Bazayev, from Capec Team, and Japanese Takashi Miyazawa, from Bridgestone Anchor Team. Cárdenas won the overall standings with 1 minut and 16 seconds of advantage over Mizurov and 2:18 over Italian Matteo Carrara, teammate of Cárdenas.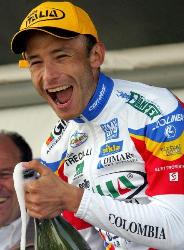 May 23, 2005 (www.si.com) Colombia's Ivan Parra won the 14th stage of the Giro d'Italia.

Colombia's Ivan Parra won the 14th stage of the Giro d'Italia on Sunday for his second straight victory, while Paolo Savoldelli retained the overall lead. Parra's triumph included climbing the Giro's tallest peak -- the 9,049-foot Stelvio pass -- and was achieved when he broke away from the field in a replay of his stage victory at Ortisei on Saturday. He completed the 130.2-mile route from Egna to Livigno in 6 hours, 46 minutes, 33 seconds. Savoldelli, of Italy, crossed the finish line nearly four minutes behind Parra, losing about 30 seconds to Danilo Di Luca and Gilberto Simoni in the overall standings. Ivan Basso, the Giro leader until last Friday, is about one hour behind after stomach problems plagued him for the second straight day.
May 17, 2005 (www.lupusmeeting.org) COLOMBIAN DOCTOR WON PRIZE For his novel treatment for Lupus

Dr Renato Guzman, Lupus doctor from the National University, received the prize for the best clinical research for his study titled "Rituximab in Refractory Lupus", during the Sixth European Congress on Lupus held in London recently. The meeting of world experts on the topic involved seven patients with advanced Lupus, whose vital organs were compromised. Guzman carried out treatments with Rituximab, a drug developed for leukemia, which blocks the actions of B lymphocytes, which cause the symptoms of Lupus, an auto-immune system disorder in which the organism attacks itself instead of defending itself.
May 11, 2005 (www.unausa.org) José Fernando Corredor, winner of the Global Young Advocate Award

Colombian José Fernando Corredor was the recipient of the Global Young Advocate Award, an award sponsored by the United Nations for outstanding young people. The purpose of the National Forum and the National Convention is for Americans to affirm their commitment to the goals of the United Nations (UN) and to express their conviction that the United States must play a leading role in achieving UN goals. Young people around the nation can and do show this commitment to the UN on a daily basis through their work, volunteer, and other accomplishments that further the goals of the UN During the National Convention, we would like to recognize the accomplishments of one outstanding young person with the United Nations Association of the USA Global Young American Award.
May 11, 2005 (www.eltiempo.com) Colombian Jorge Ramirez wins Novela Ateneo Valladolid

Colombian writer won the prestigious Novel Award of Ateneo Valladolid in Spain. His work "Jinete en las sombras" (Horse rider in the shade) was selected as the best piece in teh 52nd version of this famous literature award. Ramirez is a professor of the Nationa University of Costa Rica, where he resides. The Ateneo Valladolid Novel Award awards the winner also with $39,000. Congratulations to Jorge.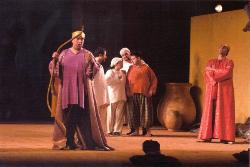 May 11, 2005 (www.eltiempo.com) José Daniel Ramírez, a Bogotanian tenor in Italy

Jose Daniel is one of the stars of the Cremona barroque opera and will participate in the 2005 Festival Monteverdi. Jose Daniel was born in Bogotá and is currently residing in Milan, Italy. Jose Daniel, 40, was one of the stars of "Orfeo" last year, participated in the "Return of Ulises" this year, and is going to be part of the cast that will open "Pepea's Coronation" in October. José Daniel studied in Boston (USA) and after 10 years of academics he flew to London where he met Sylvia Sass' manager. Sylvia Sass was his role model and musical inspiration. He became her student and decided to move to BUdapest for two years. Then came Italy with a lot of opportunities as "there are not many barroque tenors in Italy", according to Ramirez.
May 2, 2005 (www.eltiempo.com) ROBOT FROM POPAYAN WON CONTEST IN THE UNITED STATES

"Scorpio", a robot designed and built by Colombian engineers defeated another 19 projects in the test organized by California Polytechnic State University. Sebastian Cabrera, Cesar Quinayás and Ronald Pantoja, built the equipment capable of navigating a labyrinth and recovering five golf balls in the laboratories of the University of Cauca and TMC-ITEL Ltda. The 15-centimeter robot gathers soda cans and round objects detected by three sensors that combine laser and infrared rays, located in the front of the robot. Other sensors follow a route marked out, and a cane determines the location of obstacles. The Scorpio cost $300.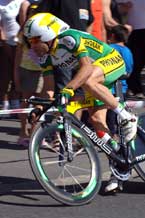 May 1, 2005 (www.espn.com) Botero takes final stage and overall at Romandie

Now this is the Santiago Botero we all remember. Phonak's Santiago Botero signaled his return to winning ways by claiming overall victory in the Tour of Romandie, the 11th race of the 27-leg Pro Tour series. Botero claimed victory after winning the final stage time trial held over a 20.4-kilometer route in Lausanne, Switzerland, on Sunday. The Colombian, a former world champion in the discipline, came over the finish line to beat Australian specialist Brad McGee, with overnight race leader Damiano Cunego of Italy finishing third on the stage. Botero's victory comes in the wake of a relatively barren spell, most of which he endured during his time at former team, T-Mobile. He hadn't won a major time trial since winning the world champion's rainbow jersey in 2002.

"I'm reborn, I'm living again," Botero told eurosport.fr after the win that erases the memory of two years of setbacks at T-Mobile. "To think that it was two years of hardship, so naturally I'm savoring this one." The victory crowns a super return for the Colombian who returned to a strong performance in the Fleche Wallonne and followed it up by dethroning Oscar Perreiro as Phonak team leader in Romandie. "I was surprised to be so strong in the mountain considering that I'd just started racing again," said Botero. "I had excellent sensations on the bike and you could see it in the 20km ITT in the streets of Lausanne." The win was big news for the Phonak team, bedeviled by doping scandals that have threatened to derail the Swiss-base squad. With the win, the team defends the title it won last season with Tyler Hamilton.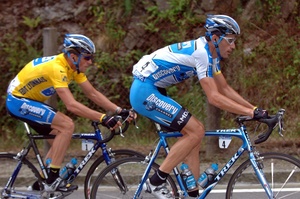 March 31, 2005 (www.hincapie.com) Colombian descendent George Hincapie excels as cyclist

George Hincapies is showing his strength and loyalty at the 2005 Tour de France. His hard work is intended to help Discovery Channel Team's leader Lance Armstrong win his 7th tour. George Hincapie reinforced his reputation as America's premier Classics rider in 2001, coming through with the most prestigious European victory of his career, Gent - Wevelgem, while also winning America's newest premier event, the San Francisco Grand Prix. He is a seven-time Tour de France veteran and has played a pivitol role in Lance Armstrong's 4 victories. Becoming on of the country's best cyclists didn't happen overnight. George had an outstanding career as a junior before taking it to the pros domestically and abroad. As a junior, George won 16 medals, 10 junior national titles and two world medals. He was a member of the 1989 U.S. Junior National Team and two-time winner of the Mary Cappy Award, given annual to the outstanding cyclist at U.S. Junior Nationals (1990-91). George graduated from Farmingdale High School in New York in 1991. His hobbies include basketball, mountain biking, music and motorcycling. Born: June 29, 1973 in Queens, N.Y. Residence: Greenville, S.C.. European Residence: Gerona, Spain. Team (2005): Discovery Channel. Turned Pro: 1994.Height: 6' 3" Weight: 185 lbs.

March 31, 2005 (www.leoespinosa.com) Leo Espinosa, an outstanding Colombian graphic designer featured by Swatch and other big brands.

The latest years have been the most exciting years in Leo Espinosa's career as an illustrator, adding to his extensive editorial work, the creation of posters, packaging and even a design for the coolest watchmaker in the world. Espinosa began his career in Colombia, South America. He studied Graphic Design and was an art director in advertising. And under his Pen name, Leocomix, he and a few friends created and published the first comic book in the history of the country. He was drawn to New York City initially to study at the School of Visual Arts and along the way, fell in love, got another job in Advertising, married, and then, in 1996 began working independently as an illustrator. Highly influenced by the European comic books he's been devouring since childhood, Leo's work has been recognized by the Society of Illustrators, Communication Arts, HOW, AIGA, American Illustration, and ranges from topics like technology, lifestyle, sports, kids, to fiction. In 2000 Leo, his wife Laura and their 2 year old son, Benjamin, left New York and spent a year abroad in Barcelona, where he continued working for his regular clients but also launched himself into new projects: Painting and drinking wine was one of them. Having a daughter, baby Sofia, was the other one. Now the family of four is back in the US, living in Cambridge, Massachusetts. at least for a while. Besides drawing, Leo loves road bicycling and hopes that one day a Colombian will win Le Tour de France.

Leo Espinosa client list includes: Target Stores, Iomega, Honda, American Airlines, The Wall Street Journal, American Express, Fortune, Wired, Conde Nast Traveler, Discover, CFO, Fast Company, Forbes, New York, Business Week, The L.A. Times, Smart Money, Family PC, The New York Times, Real Simple, Residential Architect, Working Woman, YM, Nickelodeon, Coca-Cola, Swatch.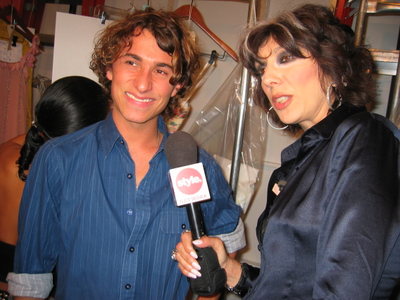 March 31, 2005 (www.estebancortazar.com/) Colombian prodigy designer Esteban Cortazar at prestigious New York Fashion Week.

Cortazar is the youngest designer ever to show at the prestigious New York Fashion Week. His line has been featured at Bloomingdale's New York. Esteban, Cortazar, Esteban Collection, Cortazar Collection, Fashion Designer, newyork fashion, ny fashion, young designer, esteban cortazar collection, esteban cortazar, Cortazar, New York Fashion Week featured at Bloomingdale. Cortazar has been embraced by celebrities and leaders in the fashion and entertainment industries, including Cindy Crawford, Daisy Fuentes, Roberto Cavalli, Ingrid Casares, Lenny Kravitz, David LaChapelle, Madonna, and Gloria Estefan. Cortazar created a dress for socialite Paris Hilton to wear to a benefit hosted by Anna Wintour, Sarah Jessica Parker and Oscar de la Renta. Colombian Fashion Desing Rising Star Esteban Cortázar was also invited to participate in The National Heart, Lung, and Blood Institute Hosts Red Dress Collection 2005 Fashion Show on National Wear Red Day.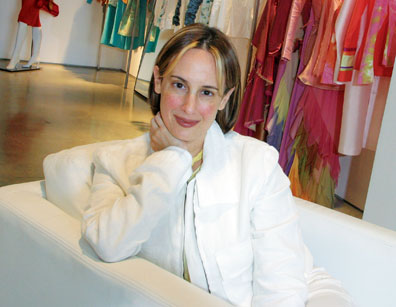 March 31, 2005 (www.vistamagazine.com/sepchic.htm) Silvia Tcherassi, brightest star among the new generation of Latin American fashion designers.

Silvia Tcherassi is the brightest star among the new generation of Latin American fashion designers. She was born in the Colombian city of Barranquilla, on the shores of the Caribbean. She began her career as an interior designer, but the search for new artistic expressions led her into the world of fashion. In recent years, her creations have been seen on the catwalks of top fashion shows in New York, Paris, Mexico City, Prague, Poznan, Düsseldorf, Miami and Milan, where she won praise from the fashion press during Milano Moda Donna -Fall-Winter 2003/2004 and spring-summer 2004 collections. She tends to use silk and satin in bright plum, purple, burnt orange and browns. She defines her style as "classic/avant garde". Regarding her rise to the top, she says: "It hasn't been easy to get to Milan, it's always difficult to reach a new stage, but I prepared myself conscientiously". Her designs, may be seen in her Coral Gables, Fla., boutiques at the Village of Merrick. as well as in top fashion stores in Latin America, Europe and Asia.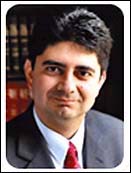 March 30, 2005 (www.topix.net/city/dover-nj) Javier Marin, from Sevilla, Valle, Become Mayor of Dover Township, N.J.
Credit Union CEO In Race To Become Mayor of Dover Township, N.J.

Colombian born Javier Marin has been elected as Mayor of Dover Township, N.J. Mr. Marin has extensive experience in the bank sector working with the community. Marin developed strong partnerships for community housing projects. Marin has been an active member of the local Hispanic community, serving on a number of community boards, such as Dover Board of Education. In what he says is a natural transition, Spanish-American Credit Union CEO Javier Marin was elected as Mayor of Dover Township, N.J., for the Republican Party. "It's just an extension of what I do here,'' he said of his position with the CU. "I have been extremely involved with the community.'' Marin moved to Dover Township seven years ago after serving many years as a banking industry executive with Chase and Summit banks. Dover is located in Morris County which places it in the center of Northern New Jersey. It is approximately 35 miles from Manhattan and the same distance from the Delaware River and the State of Pennsylvania.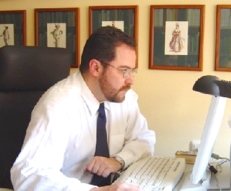 March 16, 2005 (sitemason.vanderbilt.edu) Colombian Professor wins Latin American literary award

Vanderbilt assistant professor of Spanish and Anthropology, Carlos A. Jauregui, from Colombia, has won one of the oldest and most prestigious Latin American literary awards. Jauregui learned on Jan. 27 that his book-manuscript "Canibalia" had won the Premio Casa De Las Americas Award for best socio-historical and literary essay of 2005. Jauregui's book-manuscript explores the subject of cannibalism as a prominent metaphor in Latin American cultural history. "I am delighted and certainly overwhelmed for the honor and recognition that the prize represents. It took me a long time and a lot of work to write this book; time that I took from my family and friends," Jauregui said. "I also feel in debt with my colleagues; with Vanderbilt University that sponsored my research; and with my students who engage with me in stimulating discussions about the topic."

March 11, 2005 (www.packaging-technology.com) Colombian Design Student, Marcela Ramirez, wins International Award

Colombian Marcela Ramirez, a senior student of design at Universidad del Valle, won the famous WorldStar 2004 Award, which is awarded to those outstanding advacements of the state of the packaging art. Marcela was awarded for her "Packaging for an Alcarraza". This packaging offers the craft object protection from breakage at transport. It is easy to manipulate and it allows the piece to be attractively exhibited at the point of sale. The packaging cushions and holds the craft object through a structure made up of eight triangular folds and two recessions.

The pre-eminent international award in packaging, WorldStar illustrates the continual advancement of the state of our packaging art and creates a living standard of international packaging excellence from which others may learn. WorldStars are presented only to those packages which, having already won recognition in a national competition, are compared by an expert panel of judges to similar packages from around the world. Awards are based on the judges' consensus that a package is superior in its own right, and better in its class in execution or innovation by comparison. WorldStar 2004 saw 154 packaging designs receive a WorldStar. Four of these were nominated for the prestigious President's Award. The WPO jury met in Mumbai, India, on the 28th of October and judged 275 entries from 32 countries. The 18 judges represent the member packaging associations of the World Packaging Organisation and the International Packaging Press Organisation. Since 1970 the WPO has given awards to new and innovative packaging from all around the world.
March 9, 2005, (http://www.dod.mil/armedforcessports) Colombian descendent champion in UNITED STATES ARMED FORCES Wrestling Tournament.

Eric Albarracin, whose father is from Boyacá, Colombia, is competing in the United States Armed Forces Wrestling Tournament in the category of Free Style 55 kg. Eric has won this tittle three times already and plan on winning again this year. The tournament is held at the Olympic Training Center in Colorado Springs, Colorad. His father was born in Boyaca in 1933 and lived there for 30 years before leaving to the USA. Albarracin is the only Colombian wrestling in this year's Armed Forces tournament. Eric is a US Captain of the 3rd Brigade Combat Team. Good Luck!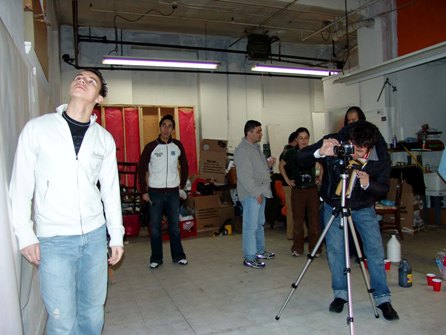 March 5, 2005 (//blogs.law.harvard.edu) Colombian artist Jaime Avila Exhibits in Boston

Jorge Avila, who represented Colombia at prestigious art exhibitions in Brazil and England last year, is in Boston for two exhibitions organized by Harvard University's David Rockefeller Center for Latin American Studies. ''Life is a Catwalk," 17 portraits of homeless drug addicts who prowl Colombian streets, hung side by side with deserted street scenes lit with tiny light bulbs, is on display at the Rockefeller Center's Kirkland Street address. Meanwhile, Avila's installation ''4th World -- Five Cubic Meters," artfully assembled aerial photos that reflect on poverty and urban sprawl in seven Latin American cities, is showing at the Boston Arts Academy gallery near Fenway Park. The dual exhibition is Avila's first solo show in the United States and his first time in Boston. Colombian artist Jaime. Avila carried out a workshop with Colombian youth in East Boston. In this workshop, sponsored by the Cultural Agents Initiative, Avila had members of the dance troupe Bajucol imagine their desired cities and paint them around a outline of their silhouette. The final product will include photograps by Avila of these young men and women in their actual surroundings and in the image of their desired city.

March 4, 2005 Colombian writer Angela Becerra wins Azorin Award

Colombian writer Angela Becerra was awarded with the renown Azorin Award in Spain. Angela won the EU $57,000-award with her last work "El Penúltimo Sueño" among 168 participants in this important literature competition. The winner is selected by a judge panel in Alicante, Spain, and is sponsored by Alicante City Hall and Editorial Planeta. This Angela Becerra's second literature award since her first novel was also awarded with the Latin Literary Award 2004 in the United States under the 2004 BookExpo.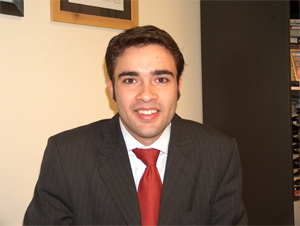 February 4, 2005 (www.centrogarrigues.com) Colombian Felipe Quintero Serrano awarded with Young Lawyer 2005 in Spain

Colombian attorney Felipe Quintero Serrano was awarded the Jóvenes Juristas 2005 Award by La Fundación Garrigues y la Universidad de Navarra. This award is awarded to attorneys, 26 yearof age and under, for their excellence in the knowledge of Business Law and their skills in law application. The test is based on topics related to business law such as commercial law, labor law, finance and tax law, international trade law, etc.. The award is based on a contest in which each contestant writes a case thesis and presents an oral defense. The winner is the one with the highest grade given by a judge panel. The judge panel (composed by law school deans, law school professors, law practicioners, and business law attorneys) unanimously gave the highst grade to Felipe Quintero Serrano.

The winner, born in Colombia 24 years ago, studeid law school at Universidad de Los Andes in Bogotá, Colombia, and finished a Master Degree in Buisness Law at the Centro de Estudios Garrigues in Spain. Felipe practices law in the Professional Buffette Garrigues in Madrid, Spain, in the Commercial Law Department.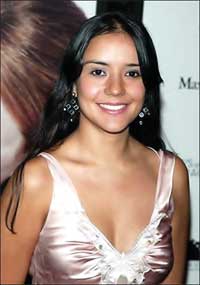 January 25, 2005 (www.mariafullofgrace.com) Catalina Sandino Moreno has been nominated to the Oscar Awards

Colombian Actress Catalina Sandino Moreno has been nominated to the Oscar Awards in the category: Actress in a Leading Role. Her nomination is because of her leading role in the movie Maria Full of Grace. Catalina, in the role of Maria, portrays a seventeen-year-old girl who agrees to act as a "mule" for Colombian drug dealers after learning that she is pregnant. ALSO NOMINATED IN THIS CATEGORY were Annette Bening - BEING JULIA, Imelda Staunton - VERA DRAKE, Hilary Swank - MILLION DOLLAR BABY, Kate Winslet - ETERNAL SUNSHINE OF THE SPOTLESS MIND. Catalina was the winner of the Best Actress Award at the 2004 Berlin Festival. This movie was the winner of the Dramatic Audience Award at the 2004 Sundance Film Festival and tow major Awards at the Berlin Film Festival. Catalina was born in Bogotá in 1981 and became interested in theater and stage at an early age. In 1987 while still in high school, she enrolledn in the Ruben Di Pietro theater academy in Bogotá. During her four years at the academy, she acted in such productions as "Acuerdo para Cambiar de Casa" by Griselda Gambar, "The Dark Room" by Christopher Durang. After making her film debut in Maria Full of Grace, Catalina relocated in New York City, where she attended the Lee Strasberg Institute. She recently made haer New York stage debut in the Frog & Peach Thater Company's production of Shakespeare's "King John".

Come visit this link to learn about more positive news about Colombia.
---